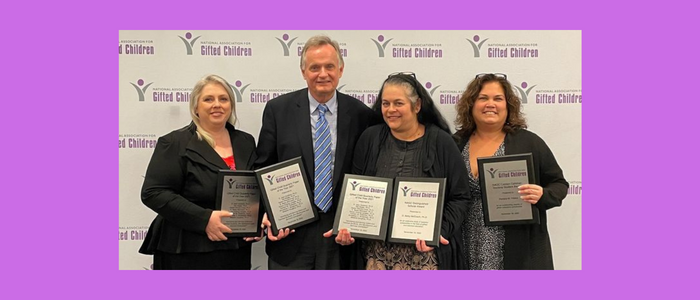 The RMME Community celebrates researchers from the Neag School of Education, who received awards at the 2022 annual meeting of the National Association for Gifted Children (NAGC).
RMME Professor, Dr. D. Betsy McCoach, earned recognition as the 2022 NAGC Distinguished Scholar. In this capacity, she gave a featured presentation entitled: "How Can We Answer the Most Fundamental Questions in Gifted Education?" [NAGC Press Release]
Dr. McCoach also received an award for her contributions to the Gifted Child Quarterly Paper of the Year. [NAGC Press Release]
In addition, Pam Peters (RMME doctoral student), earned a Carolyn Callahan Doctoral Student Award for her "exemplary work in research, publications, and educational service, as well as…potential for future scholarship." [NAGC Press Release]
Congratulations to these two outstanding scholars and all of this year's NAGC award winners!
---